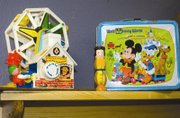 Whether consumers are looking for a good deal on everyday items or the perfect holiday gift, the ideal find might be closer to home than one might think.
Easy on the pocketbook
The Sunnyside Christian Thrift Shop gets donations on a regular basis that tend to wow its customers, according to manager Diane Plooster.
From crystal dishes in perfect condition, to antique toys and items, Plooster says the shop, located at 305 North Avenue in Sunnyside, sees it all. This shop takes only items of the best quality. But when donations are more than gently used, staff at the Sunnyside Christian Thrift Shop gets to work.
"If we get a doll without clothes, we have someone on staff that dresses the doll and cleans it up," she added.
For the consumer looking for bargain department-store quality gifts, consumers are apt to find never-used items donated to the local Goodwill store. Goodwill accepts new and gently used donations of almost anything (except large appliances and beds). According to head cashier Nichole Sandoval, the store sees good quality home décor items along with never-used toiletry gift sets.
The perfect gift for a girl this holiday season, says Sandoval, just might be the bath and body soap gift sets found at Goodwill on a regular basis.
"We get those donated all the time," Sandoval said.
Beyond the rack
While both above mentioned shops also take clothes, shoes, small home décor items and appliances, they will not accept donations of large appliances, such as refrigerators, ovens and stoves. But Tony Perez specializes in these types of items.
"We always have washers, dryers, refrigerators, stoves and furniture sets," the owner at Tony's Thrift Store said.
Perez says the store, located at 800 Yakima Valley Highway in Sunnyside, offers deals on all items in the shop each and every day.
"It's like every day is a holiday at Tony's," he added.
But why shop thrifty?
In an economic downtown, shoppers are likely looking to have a happy holiday, in addition to keeping up with bills and everyday necessary purchases.
The aforementioned local shops are just a few of the several thrift stores available in the area this holiday season that can help local shoppers