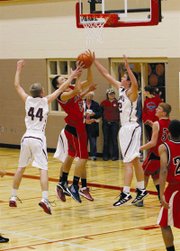 The Pirates were struck by Lightning last night, losing to LaSalle's JV squad 74-53.
The Bickleton boys basketball varsity was playing without its center, but still managed to stay in Monday night's game until the middle of the third quarter.
"They were shooting 53 percent from the field, and we were shooting 28 percent," said Coach Jerry Roberts. "You can't keep up with that kind of difference for long."
J.J. Bates led the Pirates with 16 points and five rebounds. Teammates Justin Roberts and Mitchell Powers weren't far behind with 15 points each.
The Pirates' game last Friday went much better, with Bickleton beating White Salmon's JV squad 50-35.
Justin Roberts led Bickleton scoring in that game, the season opener, with 19 points. He was 5-for-6 from the free throw line.
Mitchell Powers and J.J. Bates each had nine points in the game.
"We had a fairly balanced scoring attack," said Coach Roberts.
Bickleton didn't play on Saturday. The game against Pasco was postponed until Jan. 4.
Bickleton (1-1) next plays Zillah's C squad at Zillah tomorrow (Wednesday) night.
photo courtesy of Erin Whitmore
Bickleton's Mitchell Powers (44) and Taylor Brown (52) block the shot of Kyle Riggleman of White Salmon in the Pirate boys basketball team's season opener last Friday. Bickleton notched a 50-35 victory. Last night, however, the LaSalle JV defeated Bickleton's varsity, 74-53.