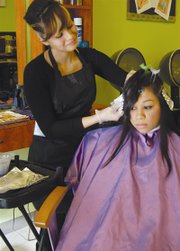 Several Hollywood trends are reaching local boundaries with trend seekers and hair salons in the Lower Valley.
Whether a hairstyle serves the purpose of ease and convenience, or to capture a personality, to spruce up for the holidays or simply make a loud statement, local salons are prepared.
Three years ago area stylists weren't receiving requests for hair, feather and tinsel extensions, or color techniques such as baliage, lowlights, twilights and many more; some stylists may have never even heard the terms.
Hollywood rules
"I believe it all starts with the (television)," said local stylist Julie Ruiz.
The owner at J&J's Hair Addictions and Shear Design Institute of Cosmetology in Sunnyside says most fashion and hair style trends begin in Hollywood. But with most fashions and trends, she says styles are cyclical, traveling worldwide.
"They see (the style through television) on their favorite actress and they like it; so they try it out," she added. "But the stylists (who created the style on the celebrity may) have gotten the idea from another country."
Whether it's to hide a self-proclaimed flaw, follow a trend or proclaim individuality, local salons are keeping up with the trends and techniques to serve local consumers.
"We learned more about feathers and tinsel at trainings and conventions," said Brezzi Campos, a stylist and nail technician at Hair Works Beauty Salon in Sunnyside.
Various extensions and color techniques are making their appearance in local trend setters. Salon clients tend to choose their hair styles to accent their fashion style and personality, according to Campos.
Birds of a feather
Feather extensions are most popularly applied with micro-beads and a clamp. Most local salons use real bird feathers, which act much like the human hair.
"You can wash, blow dry, flat iron and curl them just like human hair," said Campos.
Feathers are applied with beads that are threaded through the hair and clamped down. The extension will grow with the hair and will last from two to six weeks, according to Campos.
J&J Hair Addictions clients request this technique up to five times each day.
"Sometimes we get five requests per day; some days we don't get any," Ruiz said. "Feather extensions last up to two months."
But Campos says the hot ticket item is now tinsel extensions.
"Tinsel town"
It's a heat resistant material, looking much like the holiday décor; tinsel is a new style out for fashion mongers who don't quite want to commit to a huge change.
"(Just like feathers) it's not a huge commitment, it's something that can come right out and doesn't last forever," Campos added.
Unlike a permanent dye or highlights, Campos says feathers and tinsel are a technique that complements a client's style with little commitment.
"When you color your hair, you have to know you want it and to have to commit to keep it up," she said.
Non-committal
But as celebrities are clearly showing, a new technique may arrive in the Lower Valley in the coming months; baliage.
"Baliage looks a lot like outgrown roots," Campos said. "The color is applied to the ends of the hair, not the roots."
Currently that style isn't quite as popular in the local areas, but is seen on actresses such as Cameron Diaz and Drew Barrymore. Campos says Sunnyside trends usually follow Hollywood a few months later.
"Trends travel," she said. "And yes, most begin in Hollywood."