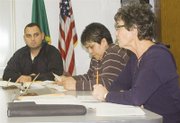 MABTON - Residents within the Mabton School District boundaries will be asked next February to decide on a new four-year levy to help with maintenance and operation costs.
The district's current four-year levy generates $195,000 each year and will expire in 2012.
In preparing to bring a new four-year levy to voters, the Mabton School Board last night, Monday, agreed to increase the amount to $245,000 in 2013, $250,000 in 2014, $255,000 in 2015 and $260,000 in 2016.
The levy increase means the rate per $1,000 of valuation that property owners will pay will increase from $1.21 to $1.48. That means an increase from $121 per year to $148 for a home valued at $100,000, if the levy is approved.
Business manager Gina Grow said the $1.48 rate per $1,000 is slightly higher than the last levy voters approved for 2008-12. She said that rate started at $1.40, then dropped to the present $1.21 due to increased property values.
She said the increase is needed to maximize the amount of levy equalization money the district receives from the state. The maximum amount the district can receive is $1.1 million, but that's based on Mabton schools having a levy of at least $230,000 per year.
Grow said the additional dollars in the proposed levy measure will help the district in the face of likely continued state cuts.
As an example, Superintendent Minerva Morales told the board that the latest news from Olympia is that levy equalization might be cut by 10 percent. That would be a $100,000 annual hit in the budget for Mabton schools.
Board members considered the levy amount, as well as lower option that started at $230,000 per year, during a study session prior to last night's regular meeting. That option would have increased the rate per $1,000 to $1.39 instead of $1.48, or $139 per year for a home valued at $100,000.
One of the board members, Blanche Tobin, wondered if voters would be willing to approve the higher levy rate at $1.48.
"Fertilizer is up 400 percent, how much can we keep absorbing?" Tobin said of Mabton's farm-based economy.
Another board member, Jeanette Williams, agreed that the $1.39 rate was a "safe bet."
But with state cuts certain, the board agreed unanimously to go with the higher levy rate to give the district a small cushion.
Grow also noted that the neighboring Sunnyside School District is looking to increase its levy rate per $1,000. She said she talked to Sunnyside school officials and learned the levy they are proposing in February would raise the rate from $1.22 per $1,000 up to $1.50 or more.
Morales added that even at $1.48 per $1,000, Mabton's levy rate fares well compared to other school districts. She noted Grandview's rate is $1.63, Granger's is $2.43 and Wahluke's is $2.64.
"We're at the lower end compared to the rest of the valley," she said.
If voters do not approve Mabton's levy proposal in February the district will resubmit it in April, Morales said.