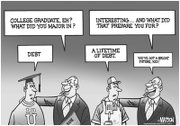 It's about that time that university applications are due for eager students wanting to enter the college arena.
What you may not know, however, is beginning in January 2012 you can start applying for financial aid. It's extremely important to exhaust all grant and scholarship options before ever considering student loans.
While I wouldn't trade my dorm-life university experience for the world, I may have thought about other options if I knew how expensive it really was.
If I had to do it all over again, I might have thought about living at home, going to the local junior college to obtain my AA and then transferring to my university of choice. This is especially a smart choice for high school seniors who aren't quite sure what they want to be when they grow up.
For most of us living in the Lower Valley, grants are offered at the junior college level in amounts that more than compensate for college tuition, books and living expenses. If you just have to go to a big expensive school, make sure you can afford it when you've graduated.
Under no circumstances should you apply for a private student loan. Student loans that are federally administered are fair, offering very small fixed interest rates. But student loans from a private lender are a monster I would have avoided.
Read everything carefully and make sure you research your desired vocation's salary expectations, the living costs in the area you hope to live in once graduated and please, don't let school cost you for the rest of your life.
My high school teachers always warned me about taking out student loans, but it wasn't until I graduated university that I realized I should have heeded their warnings. Private lenders tend to sell and buy loans much like trading baseball cards, so you never know who actually has your loan. In addition, interest rates vary from 9 percent up to 19 percent. And they can change unexpectedly.
While I'm all for higher education, make sure it's a luxury you can afford. My advice to parents is to help your student research and if you have to take out a private student loan, make sure you get everything in writing.
College was the best years of my life. I never felt more empowered and it was nice to be taken seriously by colleagues and professors. Good luck and happy studying.