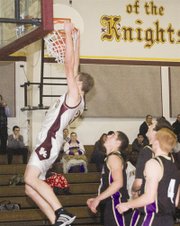 It didn't take long for Columbia-Burbank to figure out last night that nearly all of Sunnyside Christian's offense goes through senior Trevor Wagenaar. The 1A Coyotes quickly began doubling him up, triple-teaming the senior when they could get away with it.
The ploy worked somewhat, as Wagenaar had to settle for 15 points, well below his scoring average.
But with all the bodies on Wagenaar, that left plenty of uncovered scoring opportunities for the rest of the Knights. And it was 6-7 junior Brandon Broersma who best grabbed the moment, as time and again he went unchallenged to the hoop, pouring in a career-best 27 points on 11-of-15 field goal shooting to lead Sunnyside Christian to a 50-38 victory.
The non-league win snaps a three-game losing skid for the Knights, and squares their overall record on the year at 3-3.
Broersma also ripped down a game-high 17 loose balls off the glass, which powered the Sunnyside Christian boys basketball team to a 41 to 28 rebounding advantage over visiting Columbia-Burbank. He nearly posted a triple-double in Tuesday evening's game, as Broersma tallied nine blocks, as well.
"Yeah, I believe Brandon walked off the court with some confidence after the game," said SCHS Coach Dean Wagenaar. "Hopefully, we'll see more of that from him as we get into the rest of our games."
Sunnyside Christian took control from the outset last night, outscoring the visitors 15-5 in the opening period. Broersma had 10 of those first-stanza points, a couple of his buckets coming on nifty putbacks, with the senior Wagenaar chipping in the other five points.
The 1B Knights were able to stretch their 10-point first-quarter lead out to 12 or 13 points a couple of times throughout the game, but never really could put the Coyotes away.
"They (Burbank) started getting in our face with some tough man-to-man defense," said Coach Wagenaar. "It made it tougher to get off good shots.
"But to be honest, we had enough good looks at the basket that we should have scored a lot more than 50 points. We've got to start getting more shots to fall," he said.
Besides the play of Broersma, Coach Wagenaar also had high praise for his point guard, Alex Brouwer. "He turned in a good floor game last night. They were coming at him pretty good, but he protected the ball and distributed it well," he said.
The lone Columbia-Burbank player to score in double figures last night was Nathan Roberts, who canned 10 points. Three other Coyotes knocked down eight points apiece.
Sunnyside Christian will travel to Richland to take on Liberty Christian this coming Friday. The Knights had been scheduled to play at home the following night against Moses Lake Christian, but that game has since been moved to Tuesday, Jan. 17.