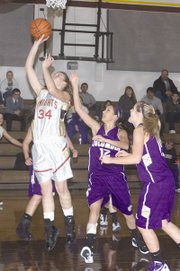 The Sunnyside Christian Lady Knight girls basketball team rolled to a 24-8 lead at the half and never looked back in a 57-21 home win over Columbia-Burbank last night, Tuesday.
"We pride ourselves on defense, that's just hard work," said Lady Knight Coach Al Smeenk.
The lopsided win was a welcome break for Sunnyside Christian, which won a pair of two-point contests last week.
Smeenk said all of the varsity players and two JV players saw action last night.
The Lady Knights were paced by their three post players, two of whom recorded double-doubles.
Stormee Van Belle recorded a game-high 16 points to go with 10 rebounds for Sunnyside Christian. Teammate Maddy Wavrin tallied 11 points and climbed the ladder for 11 boards. Marissa Broersma added 15 points for the Lady Knights.
While the Lady Knights scored early and often in the post, Smeenk also noted his perimeter players provided a lift.
Kara Den Hoed tallied six points from outside, while dishing three assists for the Sunnyside Christian attack, and Katie Long chipped in five points from the perimeter.
Smeenk said the driver for his team's one-sided success last night was defense. Sunnyside Christian forced 13 steals, with Broersma swiping three of them.
"We have to be in the passing lane and make the other team's life miserable," he said.
Even more than the steals, Smeenk was especially pleased to see his team on two occasions force the Coyotes to hold the ball for the full 30 seconds of the shot clock. "When that shot clock goes off it creates a lot of enthusiasm," he said.
Rachael Roberts led Columbia-Burbank with 11 points.
The Lady Knights (4-0) travel to Richland this Friday to play Liberty Christian. Smeenk said a game scheduled for this Saturday against Moses Lake Christian has been rescheduled to Jan. 17, 2012, because the squad is short a couple of players.