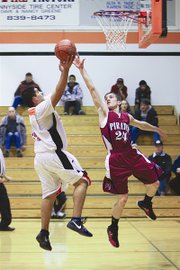 ZILLAH - The Bickleton boys varsity basketball team played the Zillah C Squad last night (Thursday) at Zillah and was defeated 47-41, despite a comeback in the fourth quarter by the Pirates.
"We played a decent second and fourth quarter," said Coach Jerry Roberts. "But we came out flat in the first and third."
It was those slow starts at the beginning of the game and after halftime that killed the Pirates' chances. Outscoring the Leopards 21-11 in the fourth quarter wasn't enough after the hole the Pirates dug in the first and third.
Jayjay Bates led Bickleton with 16 points, shooting 50 percent from the field. Justin Roberts was the only other Pirate to get double digits in points, with 11.
Coach Roberts blamed some of their problems on poor free throw shooting, saying 37 percent wasn't good enough.
"The boys all worked hard," he said. "We just didn't have it that night."
Bickleton (1-2) is out of action until Dec. 28-29, when the Pirates will play at a holiday tournament in Helix, Ore.