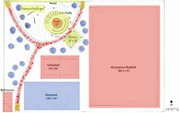 MABTON - Nearly a year ago the City of Mabton had a 1.5 acre site with overgrown weeds and desolate land.
A group of nearly 13 Mabton youth got together with several adults and formed a plan to transform the space into a community hub.
Catholic Charities Housing Services announced earlier this month a $25,000 grant from the Yakima Valley Community Foundation has been awarded to the group. The grant will provide funding for the Mabton Community Park, to create a gathering space for the residents of the city of Mabton and the surrounding community.
"We are thrilled to receive this important contribution from the Yakima Valley Community Foundation. These funds will help the community of Mabton see tangible progress towards their vision for the park," says Bryan Ketcham, Director for Catholic Charities Housing Services.
"The (Mabton Community Park) has been directed by the community of Mabton every step of the way. It is an excellent example of a collaborative process that inspires people to contribute to their local communities," said Ketcham.
Energized by local youth and community members, Catholic Charities Housing Services has organized several community 'clean-up' days at the site. Local residents have reached out to the business community to provide financial or in-kind support for the park.
Organizers say this new tobacco-free park will positively impact Mabton families and others in the surrounding community; and it will serve as a location for healthy community activities for years to come.
Last November (2010), Yakima Valley Community Foundation's Youth Council provided $15,000 of seed funding for the project. This investment enabled Catholic Charities and the Mabton community to partner with Pomegranate Center, an Issaquah nonprofit dedicated to facilitating community gathering spaces. Through the community foundation funded meetings, a state-of-the-art park design was developed. To date, more than 1,000 volunteer hours have been donated from the Mabton community, and 19 local businesses have donated, yielding more than $4,000 of additional contributions and more than $12,000 worth of in-kind donations, including material, time and equipment.
"The Mabton park project has demonstrated that Mabton's greatest assets are its people," says Mario Martinez, Mabton City Councilman. "The community volunteers that have come together to enrich and enhance our community with their energy, perseverance and generosity will define Mabton through their work on our park."
In the last month alone, a group of local Mabton youth partnered with several adults and Catholic Charities Housing Services to sand and paint poles (donated by Golden Gate Hops), transforming them into tetherball court poles. Pro-Build donated wood to create the outline of the tetherball courts and cement for tetherball pole installation. Simultaneously, J&J Construction donated their time and machinery to excavate an area for an all-purpose field. Additionally, Northwest Horticulture sponsored two of their employees to help with the irrigation system on the eastern half of the park site.
"The Mabton Community Park is a unique grassroots effort. This past November, the majority of the volunteer work was completed by a group of 13 youth ranging in age from about 6-13," says Laura Armstrong, Resident Services Coordinator and the park's project manager at Catholic Charities Housing Services.
"Whenever I am in Mabton, youth ask me when the next volunteer day will be and suggest ideas for fundraisers. Since June, a group of local Mabton teens have been researching skate park designs and contacting design firms. It is this kind of local involvement and youth ownership that sets this project apart and will yield young leaders in our communities. Youth and adults are working towards the (park's) vision together," added Armstrong.
Catholic Charities Housing Services, the Mabton Community Park steering committee and the city of Mabton are now planning for the project's spring efforts. The $25,000 foundation grant award will contribute to on-site infrastructure improvements and begin construction of the skate park. It is hoped that the foundation's funds will also ignite deeper community-wide involvement with the project and leverage additional funding needed to achieve the park vision.
For more information about the Mabton Community Park project, contact Ketcham, Director of Catholic Charities Housing Services, or Armstrong, Resident Services Coordinator and the park's Project Manager at housing services, at (509) 853-2800.