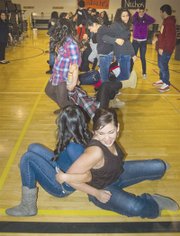 Wednesdays at Sunnyside High School are short days for regular classes, but they aren't short on activities for students.
A new Wednesday program that started last week is the Student Leadership Program, open to all students at the school. More than 120 students showed up for the program kick-off, held Tuesday, Dec. 6.
According to program director Alejandra Bobadilla, the program is designed to teach students leadership skills and has three components.
The first component is community involvement. For the moment that will involve volunteering. Some students may volunteer to read to younger students, some may volunteer at the hospital and others will be involved in the community clean-up, picking up garbage around the town.
The second component is a mentoring program that will involve Gonzaga students from the counseling program, who will connect with Sunnyside students through Skype to have face-to-face mentoring time.
The third component is living up to the Character Counts attribute of the month. The first meeting of each month will focus on that month's character attribute and help students learn about it and live it.
The program will give students already involved in leadership roles more confidence and understanding. It's also designed to help give students who are not currently involved a chance to lead small groups and become leaders.
Bobadilla also hopes the program will help students to become connected to the school and the community and to build relationships that can help them later in life.