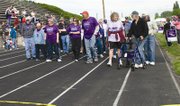 It's still nearly six months away, but organizers are already gearing up for the cancer survivor lap that will open the 2012 Lower Valley Relay for Life next May.
Shirley Delaney is chair of the survivor lap program, and she said the number of participants has dwindled from 65 or 70 in past years to just 30 or so in the 2011 survivor lap.
"There've been some years where it's been too warm or too cold, but the biggest thing is they probably don't know about it," says Delaney, herself a cancer survivor.
The survivor lap kicks off the 24-hour relay which raises funds for cancer research.
"You get such a sense of togetherness," Delaney said of walking the survivor lap. "People realize that they're not alone, that cancer happens to a lot of people."
Janita Wutzke is captain of the Wutzke's Waddlers Relay for Life team, and she says making that survivor lap is memorable, especially the first time.
"It means a lot," says Wutzke, who is also a cancer survivor. "It means knowing that we're still here."
Wutzke notes survivors can be joined on the lap by their caregivers and family members. "My great-grandchildren have walked with me a couple of times," she says.
In addition, she says survivors who are unable to walk can designate someone to walk the survivor lap for them.
To sign up for the survivor lap, contact Delaney at 837-4566.
There is no cost to walk the survivor lap, and participants will receive a free t-shirt and lunch, Delaney said.
"We're going to have an area specifically set up for survivors and caregivers so they know how special they are," she said.