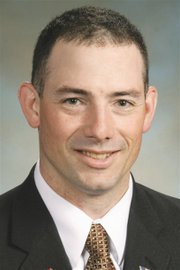 OLYMPIA - The Washington state legislature adjourned a special session this past Wednesday by a approving a bill that chipped away at the state's $2 billion budget shortfall.
The bill met overwhelming bi-partisan support. It passed 86-8 in the House.
Count 15th District Rep. David Taylor among the few who voted against it.
Taylor (R-Moxee) was the only 15th District lawmaker to vote no, saying the legislature did not do its job.
"To me it was a matter of a shell game," Taylor said. "We had two months to prepare for the special session and if members of the legislature wanted to do some real meaningful reform we had an opportunity to do that. It was an utter failure."
Taylor asserted that actual cuts amounted to less than half of the purported $480 million. He said there was only $226 million in budget reductions, with the remainder consisting of fund transfers and one-time federal funds.
"I voted no not because I opposed the cuts, but because the legislature didn't do enough," he said.
Sen. Jim Honeyford voted for the cuts, but agreed with Taylor that the Democrat-led legislature didn't do enough.
Honeyford (R-Sunnyside) said the $226 million in actual cuts amounted to only about 10 percent of the overall $2 billion shortfall facing Washington state.
"Honestly, the Governor shouldn't have called a special session for the small amount that was accomplished," he said.
While he says more should have been done, Honeyford said the special session helped lay some of the budget groundwork for the regular session set to open on Jan. 9, 2012.
When the session begins, Honeyford said conservatives have enough pull in the Senate to push for economic reform.
"We have enough Republicans and conservative Democrats to make sure there's true reform instead of increased taxes and fees," Honeyford said of addressing the rest of the state's shortfall.
That reform could come in the form of re-thinking how state agencies do their work.
Taylor feels the 2012 session can be a success rather than a failure if lawmakers take a closer look at how state agencies do their work.
For example, he claims the existing state budget has five duplicate items all addressing oil spill response at a combined cost of $18 million.
"Eliminating redundancies in the Department of Natural Resources alone could save at least $125 million from the budget," he adds.
The 2012 regular session starts on Jan. 9 and is scheduled to run 60 days, ending on March 8, 2012.