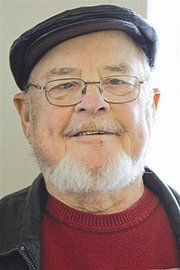 Growing up in the Great Depression days, Rev. John H. Jacobs knew times were bad.
But what he couldn't figure out was why, if his family struggled to put food on their own table, that his mother would deliver food to those in need every day.
"I was given such an example by my mother," he said.
All his life Jacobs has worked to help others; a character trait he says was passed on from his childhood while watching his mother.
While serving as pastor at Sunnyside's First Christian Church, the local food bank was relocated to his church.
Jacobs has directed the Sunnyside Ministerial Association Food Bank as a volunteer since 1976. When it began, the food bank had a budget of $300. Now, it has a nearly $50,000 budget.
Jacobs has seen rough times throughout his life, and thus can relate well to those struggling.
"He faced some tough times in his life that he could have taken the easy way out; he never did," said his daughter, Cindy Boast of Sunnyside. "His actions always spoke louder than words. My eyes were always open and he led the way."
The spirit of giving didn't stop with Jacobs, but was passed on to his children as well.
"He's influenced us all in some way," said his son, Robert Jacobs of New York. "(Because of his example) I give to a lot of charities through my business."
Boast said her dad has influenced many lives. "I think he has influenced me and my brother and sister the most of all," added Boast. "If I can give back any of the things he taught me, I'd like to learn more about serving others."
Rev. Jacobs has ran the food bank for 35 years, and last week the 81-year-old man retired his position at the food bank.
"It was just time for someone else to take it over," he said.
Due to age and health concerns, he's handed the reins over to an esteemed colleague, Joe Knowles.
"I will miss going to the food bank, but it was time," he added.
Jacobs says over the years he's estimated more than 2.5 million boxes of food have been handed out. The staff at the food bank is completely filled with volunteer help. Some have been there almost as long as Jacobs himself.
"Two of my best workers are Dr. Jerry Deardorff and Refugio Gonzales," he added. "If anybody needs a star in his crown, (it's Mr. Gonzales)."
Though he won't be directing the food bank anymore, he'll still help out when he can.
"We do go around to different churches and we pick up donations," he added.
The community, says Jacobs, has gone above and beyond to support the local food bank. And above all that's what he'll miss.