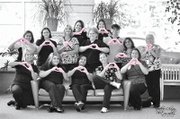 A picture showing employees of the Family Birth Center wearing pink gloves got the most votes in Sunnyside Community Hospital's annual calendar photo contest to win first place honors.
The contest is run by Tom Lathen and had more than 130 entries this year. Entries were submitted by employees of the hospital or their family members. Lisa Lewis received first place honors with her pink gloves photo.
Photos were divided into four categories: hospital and clinic people at work, hospital and clinic people away from work, images from around the valley and images from other places. The winning photo was in the first category.
The second place vote-getter, Fe Demiar, used a technique called High Dynamic Range imaging to create intense color. The method takes multiple exposures of the same image and merges them. The result is an image that is closer to what our eyes are able to detect in reality.
The third place picture by Trish Combs is an image of a barn in the snow, and like the second place picture it was from the third category of images around the valley.
After the photos were submitted in November, hospital employees voted for their favorites, starting Dec. 1. The winners' photos were posted on Dec. 13.
The winning photo will be featured as the cover of the calendar, which is available for purchase from the Sunnyside Community Hospital Foundation for a donation of $15.