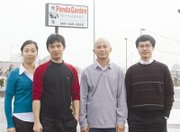 Andy Zhu's family has been in the restaurant business for more than 25 years, and has now brought their expertise to Sunnyside.
The family has just opened Panda Garden at 3210 Picard Place, near the movie theater. They bought the building at the suggestion of family friends, who ran China Grove at the location before shutting down earlier this year.
Zhu's family had been running a restaurant in Centralia since arriving in the United States in the late 1980's. When the opportunity in Sunnyside opened up they decided to try out a new place.
The restaurant has been almost completely renovated, with a new table layout, new carpets and new furniture. Zhu said the only thing they kept was the lights.
Panda Garden offers both Chinese and American food, so it's possible to satisfy that one person in the family who doesn't like Chinese food with a cheeseburger or fish and chips.
Zhu said the opening has gone smoothly, but they are looking for a couple of new servers. He is confident in the restaurant's success.
The confidence shows in the practiced ease the servers show and the speed food reaches tables from the kitchen. A person would be forgiven for thinking the restaurant had been open for months instead of just days.
Laura Gjovaag/Daily Sun News
Yen Xu, Ming Wu, Guo Wu and Andy Zhu (L-R) are family owners of Panda Garden, now open at 3210 Picard Place, Sunnyside, near the movie theater.