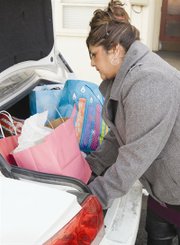 When domestic violence strikes, victims and most often their children are left emotionally and physically battered.
The Nouvella Club took matters into their own hands, trying to come up with enough items to bring happy holidays to the victims and their families at Lower Valley Crisis and Support Services in Sunnyside.
At the annual Nouvella Tea held last week, at the Holy Trinity Episcopal Church in Sunnyside, members filled boxes and bags full of gifts, food and personal hygiene items for the clients at the crisis center. In addition, the Nouvella women presented the center's director, Julia Hart, with $451 in cash that was donated by members during the tea party.
"The most ever (donated)," Hart said while receiving the envelope full of cash.
The center's legal advocate, Rosalinda Alvarez, says she can remember, after several years, one specific family helped by the center.
"The family received a box of food, in it was a 10-lb bag of potatoes," she said. "I can still remember the boy in the family, he was so excited that each of his family members could have a potato of their very own.
"We don't have to all share one potato," Alvarez recalls the boy saying with excitement in his voice.
Hart says more than 35 clients and their families have been served by the center since July of this year. Additionally, more than 1,300 volunteer hours have been logged, helping on the crisis phone line and at the center.
In addition, Hart says more than 30 women and their families have participated in the support group offered by the center.
"It's empowering when you're able to get a group of women together," she said. "It's empowering to get free of the violence in their lives."
The Nouvella Club members ended the annual meeting with songs and kind "thank-you's" to the volunteers and staff at the crisis center.
Amber Schlenker/Daily Sun News
The crisis center's legal advocate, Rosalinda Alvarez, loads gifts donated by the Nouvella Club to present to the center's clients. This Christmas, clients will have the opportunity to pick through gifts to give to their families.