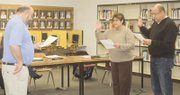 GRANDVIEW - Grandview High School is making great progress, but there is still a long way to go.
That was the gist of the report on the school improvement plan delivered by Principal Mike Closner to the Grandview School Board at the regular meeting last night (Monday).
Closner began his report with the most recent OSPI report card, showing the school scores on the High School Proficiency Exam are up in all areas. The most dramatic jump is in the writing category, where scores have gone up from around 69 percent meeting the standard last year to 94 percent this year.
Closner laid out the school's plan for improvement, and went into detail on a few of the aspects of the plan, with presentations on specific subjects by assistant principals John Jennings and Matt Ellis.
Jennings described changes in the curriculum to ninth and tenth grades. Every student, regardless of ability, gets the core curriculum. Students who need extra help are assigned workshop classes, while those who aren't challenged enough get supplemental material.
Students in grades 11 and 12 are aligned to College Board and Advanced Placement standards while also working to align to the state's common core standards.
Closner explained to the board that students are given more useful feedback on how they are currently performing in a class so they have time to work on the areas they are weak in before being tested on those areas. He also described how teachers are using software called DataDirector to analyze test results, seeing where students went wrong while answering questions so teachers know where to focus remedial work.
Director Paul Jepson spoke up regarding a class visit. He said the school has created an environment where students aren't afraid to say that they don't understand.
Ellis spoke about increasing the graduation rate by dealing with potential problems early. Those problems included everything from outside forces like addiction to issues with schoolwork.
Ellis said that more Grandview graduates are choosing four-year colleges and staying in college.
After a few clarifying questions from the board, they approved the improvement plan unanimously.