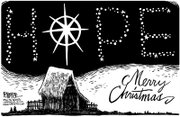 It seems only fair that I do a column on what Christmas means to me. I harassed poor busy pastors into writing columns on the same subject for our Christmas in the Valley special section that was published earlier this year. I suppose it's my turn now.
So, what does Christmas mean? I guess for me it started like it does for most kids. Christmas was a part solemn but mostly adventurous time of the year.
I remember hardly sleeping the night of Christmas Eve and being shaken awake by one of my sisters on Christmas morning. I remember waiting in the cold hallway between bedrooms until all the kids were awake, and my parents as well. The parents were usually the last to wake up, and sometimes we were told to go back to bed.
My folks didn't allow us to enter the living room until everyone was awake, so Christmas became a morning of intense anticipation, made sharper by knowing that we only had to go a few steps to see what Santa had left but dare not with sibling snitches all around.
I remember the wonder and sheer joy of the presents. I don't much recall what the presents were. But I vividly remember seeing the stuffed Christmas stocking with my name on it, often on a pile of toys just for me.
The presents weren't as important as being with family. I remember us all being together in the same room, paying attention to the person opening a present. Joking with one another on a happy morning... what other morning are people as happy as Christmas?
I remember loving that feeling as someone was about to open a present I had given. The mild terror of having gotten the wrong thing, the hope for a good reaction and then the wash of happiness when someone loves what you've given them.
My family had a tradition of orange biscuits for Christmas breakfast, scratch-made by my mom as the morning progressed and we played with our new toys. Honestly, the meal was almost as good as the presents, and I certainly remember it better and with more fondness.
I remember other bits and pieces. An advent candle that was lit each night until Christmas, with my mother reading stories to us while it burned. I remember that Christmas Eve was the longest day of the entire year. It stretched on into infinity.
I don't get the same rush from Christmas anymore. I have seen too much and know too much. But it is still a special time for me. It still means family. I still find myself wanting to make orange biscuits from scratch on Christmas morning, and admiring my mother even more for the work she put into them every single Christmas.
This Christmas I won't be heading across the mountains to be with family. But I'll still be able to see and hear them thanks to modern technology.
So that's what Christmas means to me: Being connected with family. Sharing our friendship, even across the miles.
Christmas is a comfortable warm blanket of a holiday, stretching around us in a gentle embrace. Christmas is family, food and safety.
And I wish the joys of all upon you all. Merry Christmas.