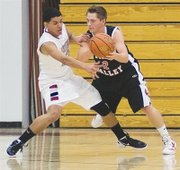 GRANDVIEW - East Valley may have believed it had an opportunity to defeat the Grandview Greyhounds last night after outscoring the home team 11-9 in the opening quarter. But the fire was quickly extinguished in the second quarter. The 'Hounds were on their way to a 51-28 victory.
Grandview took charge of the game in the second stanza, outscoring the Red Devils 14-6 for a 23-17 lead going into halftime and never looked back.
The Greyhounds recorded another 10 points to East Valley's three in the third quarter and in the final stanza the Red Devils found themselves in more hot water as Grandview outscored them by 10 points to end the game ahead by more than 20 points.
"We made a collective effort to attack the basket and really focus on an inside-out attack," said Grandview Coach Roy Garcia.
He was pleased the Greyhounds were able to hold East Valley to only 11 points in the second half.
Each of the teams committed 10 turnovers last night, but Grandview capitalized on the opportunities provided by the Red Devils.
The 'Hounds were led by Isaiah Ruiz, who scored 17 points and grabbed the ball from the glass five times. Of the points he scored, 15 were from beyond the 3-point arc. In addition, he collected five assists.
Teammate Sal Escobedo was right behind Ruiz with 16 points. He recorded five boards, as well.
Snatching the ball from the glass six times was Hector Godinez of Grandview. He also provided four assists.
Garcia said it was important to control the paint on both sides. He charged his post players, Brandon Curtis, Isaiah Gonzalez and Escobedo, with that effort.
East Valley's leading scorer was Justin Juarez with 13 points.
Teammate Victor Davila threw in another six points, and Red Devil Franki Navarro contributed defensively with five boards.
Grandview (5-0, 5-2) will take to the hardwood again Thursday, Dec. 29, at Toppenish.
Rod Smith/Daily Sun News
Grandview's Isaiah Gonzalez (left) attempts to steal the ball from an East Valley player.
1 Jennie McGhan 12/21/2011 3:15 PM