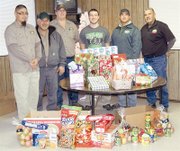 Just like every other year, Sunnyside city employees geared up to sponsor another family for the holidays.
But this year was different, according to Public Works employee Gil Trevino.
"Usually we just get the gifts and drop it off to the family," he said.
This year, however, city employees in the street and water departments along with city hall got together to first help the family with a Thanksgiving meal. After getting to know the family, who wished to remain anonymous, the city workers asked the children to write out wish lists for gifts along with their sizes for clothing and shoes.
"We really got to know the family," another city employee Juan Uribe said.
The city workers compiled the wish lists into a sign-up sheet for employees to choose which gifts they would like to purchase for the family. In addition, the family was also provided more food to get them through the holidays. The annual event is an internal fundraiser giving the Sunnyside city employees a chance to give back to a local family in need.
This year the employees also got together to buy the children larger items, which were delivered while the children were at school, to remain a surprise until Christmas day.
The family was chosen through a Sunnyside School District counselor, who told the city of their need. The family received nearly $800 worth of gifts and groceries yesterday (Thursday), which was delivered to their home by city employees.
Amber Schlenker/Daily Sun News
City employees (L-R) Jaime Alvarez, Juan Uribe, Nick Morrow, Kyle Kluever, Juan Alvarez and Gil Trevino pose with nearly $800 worth of gifts and groceries to be given to an area family. Contributors not pictured include Nate Ziegler, Kirk Weets, Wayne Linder, Jerry Paeschke and Kevin Roberts.