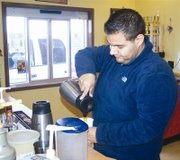 A seven-year career in selling and marketing in the fashion shoe industry has served Aaron Guerra well as the head barista at Guerra's Coffee Company in Sunnyside.
It was nearly three years ago that his family opened the coffee shop, and it was about that same time when a downturn in the economy left Guerra looking for work.
He went to work for the family coffee business when it opened here. "I wanted to help my parents' dream come true," he said.
Though Guerra is back in Sunnyside after having lived and worked in Seattle for several years, he maintains ties with the Emerald City. Those ties include networking with artists around the state, and that has led to the coffee house's frequent artist gallery showings.
As a key member of the family business, Guerra wears many hats besides brewing espresso beverages, including helping with inventory and ordering.
Meeting people and marketing are areas of responsibility that Guerra said he enjoys the most.
Examples of that marketing "hat" include color and furniture schemes at the coffee house, as well as the regular art exhibits.
His work is a labor of love, both for the business and his hometown.
In between what he figures are 14-hour work days, Guerra finds time to serve on the Sunnyside Chamber of Commerce, a mentoring program in the Sunnyside School District and community development organizations.
"Bettering Sunnyside is the main goal," he says. "There's a lot of work to get done."
The biggest challenge, he says, in the work he does both at the coffee house and in the community is keeping himself organized.
"Finding time to do everything is the hardest part," he smiled. "I need to work on my time management."