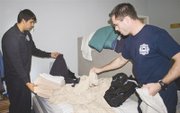 While everyday families are at home, celebrating the spirit of Christmas and preparing for Christmas day, emergency personnel are on the alert.
There isn't a day during the year when firefighters, police, doctors and nurses don't have to work.
As a result, said Sunnyside Fire Capt. Mike Beckwith, there are few Christmas Eve shifts he hasn't worked. He has been a firefighter for 14 years and said he has worked either Christmas Eve or Christmas Day nearly every year.
"It's usually quiet...most people don't want to spend Christmas in the hospital," he said, as he propped up his Marvin the Martian clad feet.
To illustrate his point, he said there was one aid call prior to 4 p.m. Christmas Eve, but he had barely stated that when Paramedic Ryan Savage and Firefighter Tony Castillo had to leave their recliners Saturday afternoon for another request for aid. Medical aid had been requested for a victim of a domestic assault.
Beckwith said calls like that one are what keep the ambulances running during the holiday season. Domestic violence situations, he said, are seemingly more frequent than other types of calls.
Occasionally there are fire calls, though. Beckwith said there is an increase in the number of fires caused by space heaters, Christmas trees and lights.
"It's sad when we do get a fire call on Christmas and families lose their homes," he said.
Because the firefighters and paramedics chose their profession, however, Beckwith said they have been trained to focus on the immediate needs of those whom they serve.
It is after the patient has been treated or the fire has been extinguished that they have time to reflect on the situation.
But, because the Christmas Eve shift is typically quiet, the firefighters and paramedics on duty can focus their attention on getting through a checklist of duties.
This Christmas Eve, a Saturday, happened to be a day for cleaning duty. "We try to get through the duties by noon," said Beckwith.
He said the vehicles must be checked on an everyday basis to ensure they are fully equipped in the event of a call.
After all the duties were complete, the firefighters this past Christmas Eve spent the day resting and watching football. "It just so happened the Seahawks were playing," said Beckwith as he looks up to check the score of the game.
Relaxation, he said, is important to ensure the crew is fully rested if they are called out. During the night, they all sleep lightly because they are on the alert.
"It's hard on the body, but that's why we try to recover during the quiet time," Beckwith said.
To keep in the holiday spirit, he said those on the Christmas Eve shift participated in a gift exchange, but it's the firefighters that work on Christmas Day that have a big family dinner.
On Christmas Day the wives and family members of those on duty visit the station for a big meal.
Beckwith and the three men working with him Christmas Eve were scheduled to get off shift at 8 a.m. Christmas Day.
He, however, was being relieved at 6 a.m. so he could bring a gift to his girlfriend's daughter before she awoke.
Also on duty this past Saturday was Miguel Barrios, a volunteer who aspires to become a paramedic. He said he signed up for duty because there weren't four men on the roster and he wanted to help out the crew.
Police, too, are on watch during Christmas Eve and Christmas Day.
Police Dispatcher Mary Vialon has worked 19 years, serving the citizens of Sunnyside. She said each dispatcher works 12-hour shifts and if their shift falls on the holidays, they typically work it.
There are occasions when police can request the day off, but there are other holidays like New Year's Eve that cannot be requested off.
The department, said Vialon, calls the busiest days of the year "black out" holidays.
The Sunnyside Lighted Farm Implement Parade and Cinco de Mayo are other examples of black out holidays.
"Because they are the busiest days of the year, you have to work it if you are scheduled," said Vialon.
She said she, too, treats Christmas Eve like any other day of the year. Because she worked from 6 p.m. to 6 a.m., her family postponed Christmas to today (Monday).
Next year she will also be working Christmas Eve and Christmas Day, but because the calendar is a little different, her family will celebrate early.
Christmas Eve, said Vialon, is somewhat quiet, but not too quiet. On New Year's Eve, however, things become crazy between 11:55 p.m. and 12:30 a.m.
"We get a lot of shots-fired calls..around here, people like to go outside and shoot their guns. They forget what goes up must come down," said Vialon.
During the first two hours of her Christmas Eve shift this past Saturday there were four calls she handled.
An officer needed her to contact Sunnyside Community Hospital for a medical release and another officer conducted a traffic stop.
Vialon received visits from a corrections officer and the sergeant on duty.
As a dispatcher, it is her job to field calls for the officers on duty, as well as to monitor the inmates being held at the Sunnyside City Jail.
On a typical night shift, said Vialon, there are five officers on duty.
She said weekday shifts involve more work because of paperwork that comes in like warrants.
"We don't like to use the 'q' word because it usually won't last if we do," said Vialon, talking about how quiet it was at the beginning of her shift this past Saturday.
She was hoping for a good night for the officers, as well as herself, however.
"It's another day of work, but I like it...I have seen a lot of changes, I have seen others volunteer and learn, and I am doing what I enjoy," Vialon said.