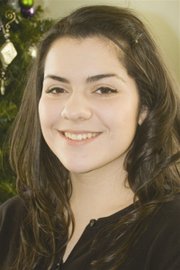 Looking at the auditions roster, Abbagail Gomez saw that 10 SHS students had signed up to perform.
Gomez, a 17-year-old Sunnyside High School senior, has combined her passions in hopes to pass along one of her most memorable experiences to a fellow student.
This past summer Gomez received a scholarship to attend Seattle's 5th Avenue Musical Theatre school.
"It was one of the greatest experiences of my life," she said.
To finish off her high school career, Gomez is raising funds to send another lucky student to the summer theater camp. But that lucky student will have worked hard for the prize.
Auditions were held last week, where students showed their best work. For the showcase, 10 performing artists along with three backstage contestants will all be competing for the same scholarship, totaling around $800.
Though they are competing against each other, they will all be working together.
"Instead of the regular individual performances, I decided to put together a one-act musical," she added.
The production's script will be written by Gomez herself and will focus on high school stereotypes. In addition, she will aim to send the message to students to accept who they "really" are, says Gomez.
Ten performers, a lighting and sound designer, a hair, makeup and costume designer and a stage crew manager will all hope to win over the judges for the chance at the scholarship.
But being the best in the showcase is only half the battle.
"They will also be filling out an application, just like I had to, to compete for the scholarship," Gomez added.
The students will be judged on their answers and visible dedication to the project at hand.
The theater company, however, will not be reviewing the applications, but instead a team compiled by Gomez.
Those not chosen for this particular scholarship, however, will be prepared with an application to send in, if they would still like a chance at attending the school.
Gomez says through this showcase she hopes to stretch each artist to their fullest capacity. The winner will be announced at the showcase.
The production date is set for Friday, Jan. 13, at 7 p.m. in the SHS auditorium. Admission is $2 and will go towards the prize, the full scholarship to Seattle's 5th Avenue Musical Theatre school.
For the scholarship, Gomez is asking the community for help.
"I'm taking donations of all sizes to help out with raising the funds," she said. "It's about $800."
In addition, Gomez is raising funds for consolation prizes for those who do not take home the grand prize.
For more information or to donate to the cause, contact Gomez by calling (509) 840-9677 from 3-5 p.m. or by text to the same number anytime.