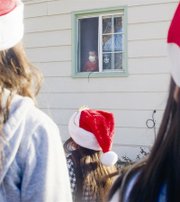 "People keep asking how Lil Rey is doing," said Noelia Vargas, grandmother of the child who had a pumpkin patch fundraiser before Halloween this year to help pay expenses for his third open heart surgery.
Vargas reports that Lil Rey is doing just fine.
Reynaldo Manjarrez III of Sunnyside was born with hypoplastic left heart syndrome, a congenital heart defect that was always fatal as recently as 25 years ago. Fortunately, it now can be effectively treated with reconstructive surgery.
The three-year-old went in for his third open heart surgery in November, and returned home just before Christmas after some complications.
According to Vargas, the first surgery went fine but fluid started to enter the child's lungs during his recovery. The doctors put in thicker chest tubes, but soon learned there was also internal bleeding.
The family learned that he was going in for a second open heart surgery to fix the bleeding. It was a terrifying moment for the family.
"My daughter called and said, 'Mom, he has to go back into surgery!' and we went back to be with her," said Vargas.
Because they had no money to pay for a bus ticket, one of Vargas's daughters pawned her wedding ring so the family could make the trip. They arrived 15 minutes before the boy was due for surgery and were able to see him before he went in.
Manjarrez pulled through, and was able to get home in time for Christmas. Vargas said the family prepared him for a Christmas light on presents.
"We said Santa could only bring one gift," said Vargas. "We don't have enough to get a lot of presents after the trips to Seattle to be with him."
But people in Sunnyside have been paying attention to the plight of the young man.
Panda Bear Child Care bought over 100 pumpkins during the Halloween pumpkin patch fundraiser, and followed up to see how the boy was doing. When the daycare owners learned he was going to have a slim Christmas, they arranged a visit from Santa.
"It's been very rough for that child," said owner George Bazaldua. "We wanted to give him a nice happy moment for this Christmas."
In addition to a visit from Santa, a group of children from the daycare went to serenade the three-year-old with Christmas songs last Friday. The group sang some old favorites, including "Jingle Bells" and "Rudolph the Red-Nosed Reindeer", then Santa brought presents for the child.
Crowded in the home, the children, Santa and a Panda Bear watched and encouraged Manjarrez as he opened the gifts to find a remote control monster truck.
Except for the face mask protecting him from infection and the bulge on his chest from the surgery, he looks and acts like a typical three-year-old. According to Vargas, he's recovering well.
In the meantime, the family wanted to send thanks to the community that has rallied around them.
"We just want to thank everybody who has helped," said Vargas. "Sunnyside has been great."