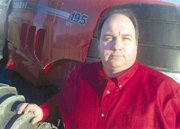 Farmers Equipment Company announced last week that Drew Fletcher will manage its Sunnyside branch.
Fletcher, who will start here on Tuesday, Jan. 3, 2012, will also serve as Farmers' assistant director of machinery sales.
Fletcher brings 21 years of experience in the agricultural equipment business to his new position, having held sales and product specialist positions with AGCO and Case IH.
Most recently, he was a territory manager with Ritchie Bros., with responsibility for developing their auction business for agricultural equipment in the Pacific Northwest.
Ken Stremler, president of Farmers Equipment Company, says that the hiring of Fletcher "brings his considerable product knowledge and marketing skills to the Yakima Valley agricultural industry."
Stremler added, "Drew's background and experience will allow him to hit the ground running; and it reaffirms our goal to be a best-in-class equipment dealer for customers in Sunnyside and the surrounding area."
Ron Schauer, who has acted as Sunnyside location manager, will continue with the company and will focus on machinery sales to dairy and row-crop farmers out of the Sunnyside store.
Farmers Equipment Company originally opened its Sunnyside location in 2006 to expand its marketing of agricultural machinery to farmers in Eastern Washington.
In 2009, Case IH awarded Farmers Equipment the exclusive Case IH contract for sales and support for Case IH products in the Lower Yakima Valley and the surrounding trade areas.
The Sunnyside branch, located at 181 Factory Rd., is staffed to offer parts and service support for all of the products that they offer.