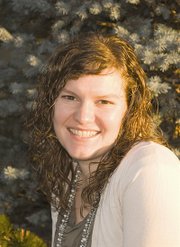 Although she doesn't have an actual studio, Katrina Van Wingerden recently began offering her photography services to Lower Valley residents.
She said she enjoys capturing people in a natural pose, especially children and newborns. She believes children are highly expressive and if she can capture a unique facial expression, it is a way of documenting their personality for those who know and love them.
Babies, Van Wingerden said, are fun to photograph, as well. She likes to place them in a setting that is meaningful. She enjoys posing them with props like their father's work boots.
"For instance, if the father is a fireman, I will pose them with the firefighting boots," said Van Wingerden.
She said she has been capturing moments in people's lives since graduating high school. She lived in Sioux City, Iowa and learned photography and graphic design while under the tutelage of photographers at a studio there.
Van Wingerden moved to Sunnyside after marrying James Van Wingerden. She started looking for work and was unable to find a photography studio nearby that could use her skills.
So, she decided to start her own business, operating out of her home. The business, Bella Studios, is operated by appointment.
"I don't yet have a studio, so a lot of photos are outdoors," said Van Wingerden, stating she doesn't have strict business hours and is willing to meet clients when it is best for them.
Van Wingerden said she encourages teens to bring items of importance to them as props and encourages families to act naturally during a photography session.
She views her photography as an artistic way to bring out the natural expressions of her clients. "I don't like unnatural poses," she said.
When asked about her pricing, Van Wingerden said she has comparable prices to other studios and incorporates strategies that worked at the studio she was employed at in Iowa.
"Everybody is so different in what they do and consumer preferences vary, as well," she said regarding the style of photography and pricing for packages.
In addition to photography packages, Van Wingerden offers graphic design services. She enjoys utilizing photos she has taken into the design of cards and birth announcements, for example.
"It's really up to the unique style of the client," she said.
Van Wingerden can be contacted by calling 830-8789 or emailing bellastudios.wa@gmail.com.