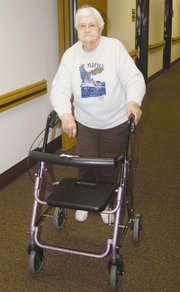 PROSSER - The staff at Sun Terrace bet Verlie Moon that she wouldn't walk 100 miles, but the 89-year-old far surpassed that bet by logging 350 miles, walking a mile every day.
The results have been impressive. Moon has lost 40 pounds and is down six clothing sizes. She no longer needs a blood pressure pill.
Moon started walking after a nurse came and measured the halls at Sun Terrace and determined that 11 laps around the building was a mile. Moon now walks four laps each morning, four laps at lunchtime and three final laps at dinner time. And she's managed the task 350 times.
The Idaho native's father was a WWI vet who lived to be 108 years old. Moon has lived in the Yakima Valley for most of her life. She's was a bartender for 21 years, worked at McDonald's for 13 years and also has picked just about every fruit the valley has to offer.
Moon's family mostly lives in the valley, and she moved back from Oregon where she'd lived with her second husband after he passed away.
She has 13 grandchildren, 24 great-grandchildren and a 7-month-old great-great-grandchild.
Walking was only natural to Moon. She says when she lived in the country she walked every day. She had stopped walking as much when she broke her hip seven years ago, but is glad to be walking again.
Sunnyside diabetes educator Cathleen Fierro said she was delighted when she heard about Moon's walking.
"It is one of the main things you can do to prevent diabetes," said Fierro. "I'm just so amazed by her."
Moon intends to keep walking. She said it was difficult at first.
"My legs would get sore, and I'd have to sit down for awhile on the benches," she said. "But each day we'd walk a little farther until we could do a full lap without resting."
Moon started her efforts with a 99-year-old walking partner.
"She doesn't walk the whole mile anymore," said Moon. "She stopped at 262 miles. She still joins me for laps sometimes."
She plans on taking New Year's Day off, though.
"I think I deserve a break," she said.