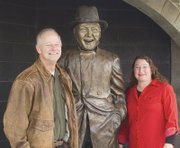 Even while reeling from the devastating fire that destroyed a building he owned a two-thirds share in, Don Vlieger was still thinking of what was best for Sunnyside.
In the April 23, 1996 edition of the Daily Sun News, five days after the fire, Vlieger said, "I only want to do what is right for the downtown."
Three and a half years later that regard for the city manifested as a donation of the property for the building of Centennial Square.
While announcing the donation, Vlieger said that he thought the plans for the park had merit and would be good for Sunnyside. He also hoped that the square would capture the heritage of Sunnyside to display for future generations.
Twelve years later, the hope is still there, but Vlieger and his wife, Karen, admit to a little disappointment that the park isn't used more.
"We had hoped it would become the center of downtown," said Vlieger.
Fund raising for Centennial Square started in the summer of 1999, and the donation of the land helped considerably in making the park a reality.
Vlieger said the committee wanted to buy the land from him. "Donating it seemed like the right thing to do."
The Vliegers had purchased most of the building in 1989. It was all retail at the time, but he found a large vacant area upstairs.
"It was a store room or something," said Vlieger. "We added access and facilities and it made a pretty nice apartment."
The fire that ripped through the downtown building the evening of April 18, 1996 completely destroyed three businesses, the apartment and the local lodge of the Fraternal Order of Eagles.
Rebuilding was too costly, said Vlieger, so the land was used as a parking lot for Crazy Mike's video, across the street, for a few years.
After the Vliegers donated their portion of the land, Sunnyside, Inc. exercised an option to purchase the rest of the property from the Eagles. The park was dedicated in 2002.
Since then it has hosted local events and been the center of some activities in the downtown core, but Vlieger thinks there is potential there for more.
"There should be music every weekend in the bandstand," he said. He also believes organizations should take advantage of money left in the city's lodging tax pool, $170,000 worth, to bring more tourists to Sunnyside.
"The money is there to get heads in beds," said Vlieger. "We just need events to apply for it."
In the future, Vlieger hopes to see more activities centered at Centennial Square. He'd also like to see it connected more closely with Central Park and the Fifth Street corridor.
Laura Gjovaag/Daily Sun News
Don and Karen Vlieger stand next to the bronze statue of H. Lloyd Miller at Centennial Square. The Vliegers donated most of the land the downtown park sits on.