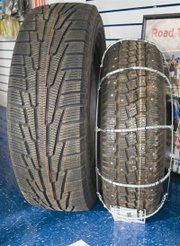 With unpredictable weather conditions, local tire shops say it's important to plan ahead.
"The weather in the valley is very unpredictable," said Mike Castilleja, assistant manager at Commercial Tire in Sunnyside.
"You don't know if it's going to be snowing tonight or not, so you always want to put your (winter) tires on before the weather gets too bad."
In addition, Castilleja says a possible emergency trip across a mountain's pass might have a motorist wishing they had been better prepared.
With a month into winter weather conditions, local tire experts say there is no time like the present to get prepared.
"There are several different types of tires you can get to be prepared for (winter) weather," said Rob Greene of the Sunnyside Tire Factory.
What a stud
Motorists can choose to purchase a winter studded tire or a stud-less tire.
According to Greene, either tire works well with adverse road conditions.
"But nothing cuts through thick ice like a good studded tire," Greene added.
Castilleja says an important part of road safety is to ensure tires have adequate traction.
"You also want to have appropriate tires for the trip you are making," he added.
"You might be going over the pass, and then you'll probably need chains or studs."
Greene says a designated snow tire will have a snowflake emblem printed on the wall of the tire.
"If (WSDOT) says 'traction tires required' the tire has to have a snowflake to qualify," he added.
To determine a quality snow tire, Greene says to look for siping (edges cut into the tire to increase traction) in the tire.
Snow tires are the best defensive tool, according to Greene.
While others on the road may not have quality traction tires, he says the prepared motorist will keep themselves and others safe by being prepared.
The high traction winter tires, however, just might not be enough, according to Castilleja.
"There are times you are just going to need chains," he added.
To chain or not to chain
Whether it's for a family outing, winter sporting trip or a simple drive across mountains, a requirement for chains is always a possibility.
"If they (WSDOT) require chains to cross the pass and you don't have them, they will send you home," Greene said.
The Tire Factory offers two types of chains, a traditional chain and a cable chain.
"The cable chain is what most newer vehicles require," Greene said.
Whatever the consumer chooses, both Greene and Castilleja agree it's better to be safe than sorry.
In addition, Castilleja says it's important to test fit your chains or cables before needing to use them.
"The last thing you want is to have to need chains in the cold and dark and have not done them before," he added.
What a deal
Commercial Tire located at 304 Yakima Valley Highway, is offering $100 off a purchase of a set of four winter tires.
At Sunnyside Tire Factory chains purchased but not used are always welcomed for return.
"We've done that for years," Greene added.
Year-round safety
Though one can be prepared for winter weather conditions, Greene says all motorists should have certain items in their vehicle at all times.
"In your vehicle you want to make sure you have a safety kit, jumper cables, blanket, flashlight and batteries," he said.
In addition, he says gloves, chains or cable chains, cell phones and plenty of fuel are also a necessity. Because you just never know what might happen.
Amber Schlenker/Daily Sun News
Pictured here at the Sunnyside Tire Factory are two different tires most commonly needed to ensure a motorist's safety in winter weather conditions, a stud-less winter tire and a studded winter tire with cable chains attached.