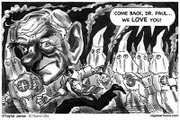 We would like to thank all those who made Grandview's first "Wreaths Across America" event such a success.
When we embarked on this effort this past summer to support the Gold Star Mothers of Washington, we hoped we would get at least 50 wreaths for a first year effort. We ended up with nearly 170.
We would like to thank all those who purchased wreaths...the City of Grandview and Public Works Department, the Grandview schools and the basketball team, churches and youth groups, Troop 643 of the Boy Scouts, the Grandview Herald, the Daily Sun News and everyone who came to help set out wreaths on a cold December morning.
Also, we would like to thank members of the U.S. Marine Corps and U.S. Air Force along with Legionnaires John Myers, Robert Warwick, Doug Rinehart, Jeanine Martin and Troy Monholland for placing the honor wreaths during the ceremony.
Finally, thanks to the spearhead of this effort, Gold Star Mother Ginger Emerson, whose idea it was to bring this to our community.
The ceremony that day was awesome, among the icy stillness of the morning we came to understand what our veterans gave to us when they were far from home during the holidays. In the moment of silence, it was truly silent - even from the freeway. So next year, let's honor every one of the nearly 500 veterans buried at Grandview's cemetery and continue a new Grandview tradition!
/s/ Jim Davidson, Fred E. Hayes Post 57, The American Legion