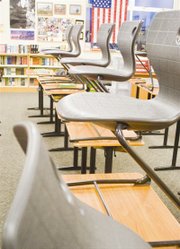 Soon Sunnyside High School students will have a state-of-the-art school.
A brand new Sunnyside High School should be complete by the start of the 2012-13 school year, according to school administrators.
This morning (Wednesday) Sunnyside Daybreak Rotarians got to preview the school under construction. New to the school is the orchestra's "black box." It's a performing arts area for students with a smaller audience than the auditorium is made for.
The black box is still waiting for a stage, which assistant principal Dave Martinez says will be available soon.
The main entrance, though still under construction, will allow students to have access to the office and a commons area. The commons area will seat double its previous capacity for students.
"We can double our capacity to seat students during lunch," he said.
School administrators project the commons area to be complete by late March or early April 2012.
Come next school year students will be invited to a learning-friendly environment. In addition, restrooms and classrooms are designed with the bills in mind.
Automatic hand dryers were installed in place of paper towel dispensers.
"Not only will the restrooms be cleaner, it's 'going green'," assistant principal Wally Shearer said.
Not only do the hand dryers make the facilities a cleaner place to be, Shearer says the school will also be saving money, time and space by not having to purchase paper towels.
The building's hallways have tinted windows, to increase the safety of the students while also creating a more economically friendly environment.
Classrooms will be installed with light fixtures that are motion sensitive, in order to save on electricity bills. In addition, classrooms are filled with desks and chairs that are specifically designed to help students concentrate better. Also, classrooms have projectors that are wirelessly linked to the teacher's computer. A microphone and speakers are also placed in classrooms for students to better hear and comprehend lectures.
Other classrooms and projects are underway and the entire project should be complete before the next school year's beginning.
Amber Schlenker/Daily Sun News
Here is an example of some of the new school equipment that students are already using. SHS staff says the chairs are ideal for students who are "wigglers." The chairs are designed to give "wiggle room" while still allowing the student to stay on task.