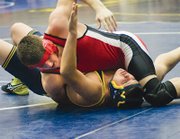 RICHLAND - Spearheaded by the performances of individual titlists Isaac Guerrero (138 lbs.), Isidro Ramirez (145 lbs.) and Austin Carman (220 lbs.), the Sunnyside High School wrestling team won top honors at the 18-team Hanford Winter Cup yesterday (Wednesday).
The Grizzlies have claimed the team championship in two of the four tournaments in which they have competed this season.
Besides the three individual titles secured at the Hanford tourney yesterday, Sunnyside advanced three other grapplers to the finals. Settling for runner-up honors in their respective weight classes were Homer Romero (113 lbs.), Santos Guerrero (120 lbs.) and Nathan Gonzalez (132 lbs.).
Team-wise, Sunnyside edged highly regarded East Valley of Spokane for the overall title. The Grizzlies amassed 209 points. East Valley finished with 192 points to claim second-place team honors. Mt. Spokane was third with 181 points. The host Falcons finished a distant fourth with 123 points.
In winning the 138-lb. championship, Guerrero went 4-0 on the day. In the finals, a shootout that tallied almost too many takedowns to keep track of, Guerrero decisioned Sam Wilkes of Mt. Spokane by a 17-12 score.
Ramirez, at 145 lbs., received a bye to open the tourney, then ran off three consecutive pins to win top honors. In the championship bout, he scored a fall against Adam Jones of Richland.
"Isidro had a great day," said SHS Coach George Paulus.
Carman, only a sophomore, earned his second tournament title of the season at 220 lbs. In the finals, he dominated last year's 3A District champion, West Valley's Robert Koch, pinning the Ram in the second period.
"Austin is becoming quite a horse when he's out there on the mat," said Paulus.
The 113-lb. runner-up yesterday, Romero, advanced to the finals, only to suffer a 6-1 setback to Mt. Spokane's Kreagan Schauer.
Guerrero, at 120 lbs., got pinned in the championship match by Josh Andrews of Richland.
"Santos got caught in a half and got stacked over the top," Paulus explained in how Andrews scored the fall.
Gonzalez, wrestling at 132 lbs., opened with three consecutive wins to advance to the finals, but Paulus elected for the Grizzly to sit out the title bout.
"Nathan took a bump to his head in the semi-finals and was showing symptoms of a head concussion. We erred on the side of caution," said Paulus.
Three other Grizzlies turned in strong performances yesterday, too, ending up in third place in their weight classes. Those consolation finals winners included Jesse Barajas at 106 lbs., Christian Ruiz at 126 lbs. and Miguel Guzman at 195 lbs. All three of the Sunnyside athletes posted 4-1 records on the day.
Notching fifth-place finishes for Sunnyside at the Hanford tourney, after absorbing only two losses, were Ramon Hernandez at 160 lbs. and Daniel Avalos at 182 lbs.
The three SHS wrestlers who didn't place yesterday, each with a mark of 1-2, included David Vidales at 152 lbs., Sam Romero at 170 lbs. and Michael Cornwell at 285 lbs.
Two wrestlers from Sunnyside got to fill in as unattached entries because of open weight class slots, each finishing fifth with 2-2 records. The two were Jacob Galindo at 138 lbs. and Max Ramos at 182 lbs.