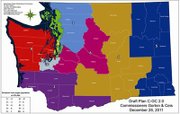 OLYMPIA - The good news is that a redistricting commission appointed by state lawmakers will reach its Jan. 1 deadline for redrawing congressional boundary lines.
The bad news is that new lines for legislative districts are still on hold as of press time because of a split on how to divvy up eastern Washington.
That's according to a meeting the commission held yesterday, Wednesday, in Olympia.
During the session commissioners Slade Gorton, the Senate Republican appointee, and Tim Ceis, the Senate Democrat appointee, unveiled a new congressional map.
The map, see accompanying graphic, creates the state's 10th legislative district centered in the city of Olympia and taking in most of Thurston County.
The Gorton/Ceis proposal creates Washington state's first congressional district where the majority of residents belong to a racial minority. That is in the ninth district which includes an area ranging from Bellevue in the north to Federal Way in the south.
In central Washington, the newly drawn congressional district means the Fourth District will no longer include Kittitas County.
The Fourth District, which includes Yakima County and is represented by Congressman Doc Hastings, had its boundaries changed because of population growth. Kittitas County, under the Gorton/Ceis proposal, would be in the eighth district which includes portions of King and Pierce counties.
The new proposal also reduces the number of cities split into two or more congressional districts from 23 to just five.
Gorton and Ceis also ensured one district - the First which covers Whatcom, Skagit and Snohomish counties - would have no incumbent.
"The First may be the most evenly divided congressional district in the U.S.," said Gorton.
"It will be a swing district, a (Senate) race to watch in 2012, no doubt about it," Ceis added.
While Gorton and Ceis, a Republican and Democrat, have found consensus, House-appointed members of the commission aren't there yet.
Dean Foster, appointed by House Democrats, and Tom Huff, appointed by House Republicans, each created their own state legislative district maps of eastern Washington. As of press time they had not reached agreement on a plan for redrawing the state legislative districts.
The debate over redistricting isn't a surprise, Ceis said during yesterday's meeting.
"We need to remind people that this is a bipartisan commission," he said. "Partisan issues are a factor in our deliberation."
Redistricting is mandated by the U.S. Constitution after each Census to reflect population changes. For example, the commission had to remove 150,000 people from the Fourth congressional district because of population growth in this area.
According to a timeline created for the commission, it is scheduled to adopt plans for redistricting congressional and legislative districts by Jan. 1 and submit them to the state legislature for consideration.