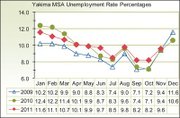 The Washington State Employment Security Department released Yakima County's November unemployment rates this week, which are up slightly from November of last year.
An estimated 9.6 percent of the workforce in Yakima County was unemployed last month, which translates to about 11,100 people. Last year's rate was 9.4 percent.
Bucking against the trend have been agricultural jobs, which rose 22 percent from last November in Klickitat and Yakima counties, with most of the growth occurring on farms and orchards in Yakima. The growth was not enough to offset the loss of jobs in other sectors.
The number of people in Yakima County receiving unemployment benefits also dropped in November 2011 from November 2010, but during the same year the size of the labor force also shrank.
The labor force shrinks for a number of reasons. The most obvious explanation is that people who have run out of unemployment benefits are no longer seeking work, becoming "discouraged workers."
Another potential reason is that more people may be retiring early as companies downsize. There are fewer workers to replace baby boomers as they retire, which could result in a decrease in the workforce.
Non-farm jobs in Yakima County increased by 0.3 percent this November from 2010, a modest jump of only 200 jobs. Yakima County has been lagging behind the state in job growth rates for the last eight months.
The Washington State Employment Security Department attributes much of this lack of growth to the downturn in the construction industry.
Job growth is showing signs of increasing in retail, wholesale, professional services and hospitality.
Washington State Employment
Security Department
The estimated unemployment rate in the Yakima Metropolitan Statistical Area for November 2011 is slightly higher than in November 2010.