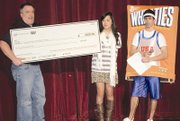 Not many students can say they helped establish a high school tradition, but the raving success of last Saturday's Battle of the Bands seems to have put Sunnyside senior Chrinstine Kim in that unique position.
The event was organized by Kim for her senior project and drew together bands from all over the Yakima Valley and from as far south as Kennewick.
But Kim's work also caught the attention of Intel and Best Buy representatives, who thought the Battle of the Bands event was a fantastic idea, especially since all proceeds from the event would be donated to the Sunnyside High School music program.
From Intel and Best Buy, both in Yakima and the Tri-Cities, the music program received a $2,000 donation. Kim also managed to collect donations from various other local businesses, from Guerra's Coffee Co. to Airport Ranch. In total, including the price of admission to the event, Kim collected more than $4,800 for the music program.
Kim estimates that anywhere from 250 to 300 people attended the show, which saw the alternative rock band Broken Solstice win the top prize. This Grandview-based band walked away with two trophies and $200.
Judges for the Battle of the Bands included three DJ's from Hot 99.7 and Teri Beeman from Intel. Guerra's Coffee Co. and Edison Market were also on hand throughout the show selling snacks and drinks to audience members.
Kim's goal was to ultimately raise awareness about the music program. She said that when budgets get cut, music programs are often its first victims, but the Battle of the Bands has helped show how important music is - to both its artists and its audience.
And since plans are already in the works to bring the battle back next year, Kim's message is bound to leave a lasting legacy for Sunnyside's music program.