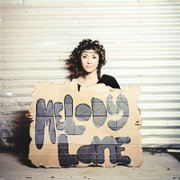 Sunnyside's own Lainey Rodriguez is building her own path to stardom and it starts Friday, Feb. 4, at 8 p.m. That's when Lainey Lou, the name she's chosen for herself when performing for audiences, drops her second CD - Melody Lane - at North Town Coffeehouse in Yakima.
Recording music is not anything new to this Sunnyside High School senior - after all, she already has a CD entitled Convey available via iTunes or for purchase at Guerra's Coffee Co. and Bon Vino's Restaurant. But Melody Lane is different than her previous CD and has presented the teenager with a whole new set of challenges.
To begin with, Melody Lane is a complete album, with a total of 12 songs for her listeners to enjoy.
Rodriguez says she worked with her producer, Brook Floyd from Rainmaker Studios in Kennewick, to produce the album and she has been completely submerged in all aspects of the process - from writing the songs, to recording the music and now, finally, to releasing the album.
This Friday, at North Town Coffeehouse, which is located at 28 North First Street in Yakima, Rodriguez will hold her very first CD release party, where Lainey Lou will perform for her fans.
Melody Lane and the release party actually serves more than one purpose for Rodriguez. Not only is it helping her build a fan base for her budding music career, it is also her senior project.
With Floyd as her mentor, Rodriguez set about accomplishing three goals for her senior project.
The first was to produce the CD, which she has already accomplished.
The second was to organize and promote her CD release party - also accomplished.
Her final goal is to play at the release party, which she will do this Friday.
This will be Rodriguez's final locally released CD as she will be heading to Los Angeles in the fall to attend the American Musical and Dramatic Academy.
But before Rodriguez leaves for school, she will be working on creating her very first music video with Good Times Production. Rodriguez will select one of the songs from Melody Lane for the video. While she does not know which one it will be, she has narrowed the selection to three songs - These Years, Alter or Unyielding.
Rodriguez describes her new CD as "more acoustic music. It's upbeat. It's not as melodic and soothing as my first."
To take a free listen to music from Lainey Lou's first CD, visit reverbnation.com/laineylou.
Starting Friday, Feb. 4, Melody Lane will be available for purchase on iTunes or CDbaby.com.