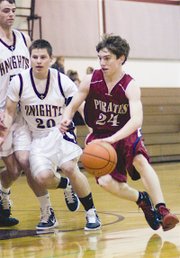 It was a battle of David vs. Goliath last night when the Bickleton Pirates took on the boys basketball team at Sunnyside Christian High School. Goliath won.
The Sunnyside Christian team scored 52 points in the first half before walking away with a 72-24 win to keep its league record unblemished.
"They're just a powerhouse team," said Bickleton Coach Jerry Roberts of SCHS. "They're just way above us with their skill level with their starting five. Their starting five are really good."
The Knights didn't press or trap, but their skill level elevated them above the Pirates. Turnovers, steals and fast breaks quickly turned the game into a rout as SCHS held a 23-6 lead after the first quarter. By halftime, the Knights were cruising along leading 52-10.
"They (Bickleton) played really hard for the first four to six minutes," SCHS Coach Dean Wagenaar said. "Then they got tired.
"We have a group of young men that are very strong and athletic," he continued. "It causes some match-up problems for some teams."
Those match-up problems caused Bickleton trouble in the first half. Sunnyside Christian scored a lot of points in the paint early. Steven Broersma and Kevin DeJong, two of the bigs on the Knights' team, scored a combined 22 points for SCHS.
Sunnyside Christian led all facets of the game, except one. The Pirates shot 77 percent from the free throw line (7-for-9) compared to just 60 percent for Sunnyside Christian (3-for-5). Everything else, however, went the way of the Knights.
Sunnyside Christian grabbed 25 rebounds in the contest to 17 for Bickleton. The Knights shot 27-for-42 from the field. The Pirates converted seven shots on 22 attempts. SCHS shot 5-for-14 from behind the 3-point arc. Bickleton was 1-for-6.
But still, the Pirates were all heart and played hard.
"We did not give up, that's for sure," Roberts said. "We were kind of consistent."
In the second half the 40-point mercy rule was in effect and the clock never stopped except for timeouts, free throws or injuries. The Knights substituted heavily in the fourth quarter, getting experience to some of their younger players.
Bickleton was led by Justin Roberts with 14 points. Mitchell Powers added six points for the Pirates. Both Daniel Clingan and Joshua Cummings added two points.
The Knights were led by Trevor Wagenaar with 14 points and four steals. Steven Broersma had 13 points and three steals. Steven Bosma added 10 points and dished off five assists. Alex Brouwer and DeJong added nine points, each. Brandon Broersma scored seven points and grabbed five rebounds and had three blocks. Ryker Van Belle finished with seven points.
The loss drops Bickleton's record to 1-6 in league play and 3-11 overall. The Pirates will host the Mabton JV tonight (Tuesday).
SCHS (8-0, 15-2) will host DeSales tonight at 7 p.m.