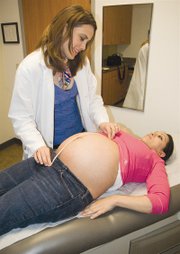 Happy and thankful is how Dr. Ana Sofia Zelaya expresses her emotions after earning a certification in family medicine obstetrics from the American Board of Family Medicine Obstetrics.
She's happy because after years of medical school, a residency and working in Sunnyside at the Swofford & Halma Clinic, she is finally finished taking boards. She's thankful for the support from her family, partners and co-workers.
"This is like a culmination of so many years of sacrifice for me and my family," she said. "I'm so thankful to God and my family."
She said her husband, David, her two children, Benjamin and Jonathan, and her mother, Juana Rose, gave up a lot of weekends for her so she could study and prepare for her boards.
"I couldn't have done it without them," she added.
Zelaya has been working in Sunnyside since 2009 and had just got board certified by a family practice board. Soon after Zelaya said she started thinking about getting board certified in family medicine obstetrics. She asked for her family's advice and they agreed she should try for it and gave their complete support. She then asked her partners, Dr. Swofford and Dr. Halma. Both were also on board.
So Zelaya began the year-long process. First she had to undergo a written test in Oregon. Then she flew to Florida to take an oral exam in front of a board of doctors. In order to complete her certification, she had to get three doctors who are certified in their specialties to testify to her competence in her field of medicine. The three doctors were all OBYGNs and hailed from Sunnyside, Texas and Yakima.
Zelaya received her accreditation on Jan. 12.
"I really feel like I've accomplished something in my career," she said.
"No more boards," she smiled.
The latest certification, Zelaya said, assures her patients they will get the best quality of care. Zelaya must retake her written exam once every eight years to stay certified in family medicine obstetrics.
Zelaya, who is from Spain originally, attended medical school at the Universidad Internacional de las Americas in Costa Rica. She performed her residency at the University of Texas, Medical School at Houston. She came to work in Sunnyside soon after completing her residency.
"It really feels good," she said. "Especially having the support of my partners and co-workers."