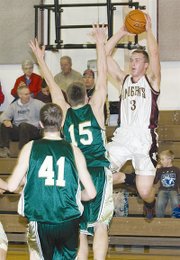 The Sunnyside Christian High School boys basketball team claimed another victory from a bigger foe last night as the 1B Knights beat 2B DeSales 58-24 in non-league action last night.
Sunnyside Christian will wrap up its regular season this weekend when the Knights host Trout Lake/Glenwood on Friday and then travel to Bickleton to take on the Pirates on Saturday.
But last night it was all about DeSales and the Knights wasted no time getting going.
"We did a good job of mixing it up last night," SCHS Coach Dean Wagenaar said.
The Knights used defensive traps and forced turnovers to take a quick lead and Sunnyside Christian never looked back. The Knights led 24-4 after one quarter and then 41-7 by halftime.
Sunnyside Christian was playing its fourth game in five days and Wagenaar said his team looked tired.
"We weren't as quick to the ball as I would have wanted, but they did a good job," Wagenaar said of his team.
In the game the Knights forced 14 turnovers, which Wagenaar said led to some great fast breaks.
Sunnyside Christian gained a 40-point lead near the end of the third quarter, forcing the 40-point mercy rule, which lets the clock run continuously except for free throws, timeouts and injuries. The Knights led 58-16 to start the final quarter.
Sunnyside Christian substituted heavily in the final two periods of play and the Irish finally caught a break in the fourth. DeSales held Sunnyside to zero points in the period, while scoring eight.
The Knights shot 21-for-32 from the field in the first three quarters, a 65 percent clip. The fourth quarter brought down the average a bit and the Knights finished with 21-for-39. They were 70 percent from the free throw line (7-for-10).
Sunnyside Christian was led by Trevor Wagenaar with 11 points, five rebounds and three assists. Steven Broersma finished the night with 12 points and five rebounds. Kevin DeJong added 10 points and six rebounds. Brandon Broersma had nine points, six rebounds and eight blocks in the game. Steven Bosma finished with six points. Ryker Van Belle had five points and six assists, and Alex Brouwer added five points.
DeSales was led by Spencer Cordeiro with six points.
The win was Sunnyside Christian's 14th in a row after starting the season 2-2.