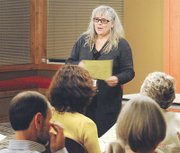 YAKIMA - With budget cuts threatening programs and organizations across the state, agencies that help families and individuals with developmental disabilities are faced with an uncertain future.
Yesterday's (Tuesday) family forum on developmental disabilities held at Children's Village in Yakima addressed service cuts and what citizens need to do to protect individuals with disabilities.
The state's developmental disabilities division is faced with the standard 6.3 percent cuts that are sweeping the state, but there is considerable concern about what these cuts will do to families with a member who is developmentally disabled.
Tom Gualke from EnTrust Community Services said that cuts in the employment section of the division could have devastating effects on the residential care section. He said the agencies are intertwined.
The employment budget allows for people with developmental disabilities to receive the training and employment they need to have a job and contribute to the community. If the employment division is unable to provide jobs for these individuals, they will need to spend more time at home.
This puts a financial strain on the residential care section. With residential care service providers forced to cut back on employee hours at the start of this year, family members are having to dedicate more time to in-home care. In some cases, this can lead to families members needing to quit jobs to provide that much needed care.
State cuts have also resulted in the state's six regions reorganizing. The Yakima and Spokane divisions will consolidate in April to become one region. There was considerable concern from family members at the forum that Spokane needs will overshadow Yakima needs when this occurs.
Another concern was with the future of parent support. Tracie Hoppis from Parent to Parent, an organization that provides that support, said her organization is facing a $5-6,000 cut, a significant portion for the organization that already only spends $20 per member each year.
Parent to Parent is important in establishing support systems for not only parents, but siblings and other family members.
John Mahaney from the Father's Network works closely with Parent to Parent and emphasized how important these support systems are for family members.
"I found out I wasn't as alone as I once thought I was," he said, when he reached out to the Father's Network.
All the guest speakers at the event emphasized that protecting these services is a top priority, but Gualke said, "We can only do so much. Parents are the really important ones."
He and Linda Fox from the Arc of Yakima County said that the most important thing for parents to do now is to contact their local legislative representatives and advocate for people with disabilities.
Hoppis said they need to know six words when they contact their senate or house representatives - "Protect services for individuals with disabilities."
Family members are also encouraged to write testimonies and send them to Gualke at EnTrust Community Services or Fox at the Arc of Yakima County. They can also send them directly to their state senate or house representatives or the governor.
For more information on legislative advocacy, visit www.actiondd.org.