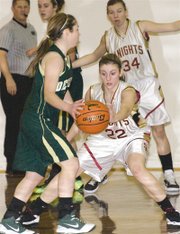 It wasn't the prettiest game, for either club. In the end, the victory went to the 1B Sunnyside Christian Lady Knights basketball team.
The 45-29 non-league win came against the visiting DeSales Fighting Irish, currently the No. 9 ranked 2B team in the state.
"Actually, I thought it was going to be a more competitive game," said SCHS Coach Al Smeenk.
The die was cast early on, though, as Smeenk's crew raced out to an 11-0 first quarter lead, thanks mainly to some high-pressure defense.
Had the Lady Knights shot at a better than 35 percent clip Tuesday evening, the game could have easily been a blowout. Instead, numerous blown bunnies and misses from inside the paint allowed the Walla Walla team to hang in and keep it respectable.
Sunnyside Christian also wasted numerous scoring opportunities, thanks to the 21 turnovers the team committed. Too many cough-ups, said Smeenk, especially when you factor in that DeSales only was credited with one steal in the game.
"That means most of those 21 turnovers were unforced," said Smeenk. "We have to do better than that.
"It got kind of sloppy, especially at the end. Afterwards the girls indicated they were fatigued, having played the night before against Bickleton."
Smeenk said he brought to his girls' attention that there won't be any off days at the State tournament in Spokane, if they advance that far in the postseason.
"We have to be ready to show up and play," he said.
As has been the case for most of this season, the Sunnyside Christian scoring was spread pretty evenly across the board last night. Senior Analisa Van Oostrum paved the way with a game-high 11 points, followed by senior Janelle DeGroot and sophomore Marisa Broersma with seven apiece. Also finding the bottom of the net for the Lady Knights were Katie Long with five points, Alyssa Haak, Makayla Morrow and Stormee Van Belle with four apiece, Maddy Wavrin with two points and Kara den Hoed with a single point.
DeSales' top scorer was Ally Zander with seven points.
Sunnyside Christian (8-0, 15-3) closes out the regular season this coming Friday and Saturday, the first night at home against Trout Lake/Glenwood and then the following evening at Bickleton.