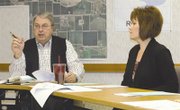 A project that could create energy from the Sunnyside Division's labyrinth of canals is receiving opposition from Sunnyside Division General Manager Jim Trull.
At a meeting held yesterday (Tuesday) Trull told the Sunnyside Division Board of Control about a Tacoma company called Pacific Rim Energy Inc. that wants to conduct a feasibility study on whether paddle wheels in the canals could produce electricity.
Pacific Rim Energy Inc. has applied to the Federal Energy Regulatory Commission for a preliminary permit for the proposed project.
The company would like to install between 53 and 184 Kinetic Energy Paddlewheel power units in the Sunnyside canal between eight and 30 feet apart. Each unit could produce a minimum of 150 KW.
All power produced would be purchased by Yakama Power, which provides power to the Yakama Nation.
The company would like to survey the site and conduct a flow study during the 2011 irrigation season to determine the best site locations for the units. There are currently 20 to 50 potential site locations the company is looking at and they claim no new roads will need to be built to access these sites.
If Pacific Rim Energy Inc. were to install all 184 units the cost is estimated at $82.8 million.
Trull, speaking to the Board of Control, said he doesn't think the project will be feasible. For one thing, he said, the application submitted by Pacific Rim Energy Inc. claims the project won't be on federal land. However, Trull said, the Sunnyside canal is federally owned.
Another sticking point for Trull is that Pacific Rim Energy Inc. claims they won't need to install any dams. Trull told the Board of Control power won't be generated without having a flow of water dropping to a lower elevation.
There are other concerns, as well. The paddlewheels will be stretched across the canal with cables. This, Trull said, could cause safety concerns. The paddlewheels could catch weeds and other debris, which could create the potential for flood situations.
Trull said the Sunnyside Division Board of Control will write a letter protesting the study.