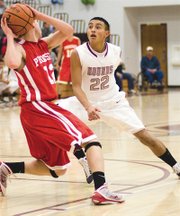 GRANDVIEW - If one or two of the Grandview Greyhounds is slowed from behind the three-point arc, another is sure to step up.
Such was the case last night when Prosser held Grandview's Daniel Nielsen from sinking all but two of his attempts from beyond the three-point line.
Adrian Vela was the untamable 'Hound in last night's Grandview victory. He scored 30 points, that's 10 shots, from behind the three-point arc. He led his team to an 88-43 victory with an overwhelming 32 points overall.
Nielsen was held to 16 points and teammate Christian Schrank tossed in 15.
The 'Hounds weren't only hot on offensive plays. Schrank had nine defensive boards, 14 boards overall.
Teammate Tony Vela stepped up defensively and stole the ball four times. He also provided eight assists.
Grandview opened the game against the Mustangs with a 24-6 lead. The 'Hounds held the intensity, outscoring the visitors by 10 points in the second quarter to lead 46-18 at halftime.
Grandview treated the third quarter much like the first two, scoring 25 points. Prosser was only able to score 11.
In the fourth quarter the 'Hounds slowed themselves down some, but still outscored the Mustangs 17-14.
Grandview was 59 percent from the field, 48 percent from three-point land and 60 percent from the charity stripe.
Prosser's Danny Raap moved past the defense to score 10 points and teammates Jordin Silva and Wade French each scored nine points.
Grandview (17-0, 19-0) will next host Ellensburg this coming Friday to close out the regular season.