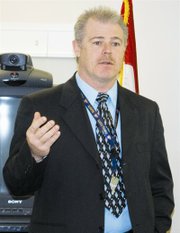 WorkSource Operations Manager Jack Fitzgerald this morning told Sunnyside Daybreak Rotary Club members about the positive impact of the annual Youth Job and Career Fair hosted by various organizations in the community.
He said the event was first held two years ago and the organizations are preparing for a third event this coming spring.
"The point of the job fair is to give kids a positive activity and a positive direction," said Fitzgerald.
He detailed the process of the job fair, stating youngsters are provided information in advance regarding proper dress and interview etiquette.
A guest speaker talks to the youngsters about opportunities available to them and volunteers from businesses throughout the community interview the youngsters, said Fitzgerald.
He said potential employers participating in the event commit to six weeks of employment for a youngster. They pay the youngster minimum wage, which this year would amount to a total of $694 for the duration of the commitment.
Fitzgerald said the youngsters learn work ethics and skills working for the employers who participate in the event.
Because not all businesses have an environment suitable for youngsters, some donate funds and, scholarships, to enable another employer to hire a youngster.
"This is a chance we, as a community, have to show the kids we care and are willing to invest in them," said Fitzgerald.
Businesses and community members interested in finding out how to help or participate can contact Fitzgerald at WorkSource by calling 836-1125.
Jennie McGhan/Daily Sun News
Jack Fitzgerald, WorkSource Operations Manager, Wednesday explains the benefits of the Youth Job and Career Fair to Sunnyside Daybreak Rotary Club members.