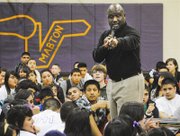 MABTON - Wednesday morning more than 600 students from 16 schools filled the Mabton High School gym bleachers for a Jostens leadership workshop and amidst laughter and games, they received a message about setting goals, helping others and making a difference.
Mabton leadership students, under the guidance of teacher Sue Sartain, brought this annual conference to their school with the help of Jostens' Central Washington representative Jason Morgan.
Morgan has presented these conferences at schools throughout Central Washington for 10 years. He said while Mabton is the smallest school to host such a conference, they had the largest attendance he'd ever seen.
Students from Quincy, Ellensburg, Thorp and Kittitas joined Yakima Valley schools like Grandview, Prosser and Granger in Mabton for a morning of events, which included door prizes and mascot Olympics. But students were most moved by guest speaker Patrick George.
George's energetic and poignant speech worked humor into a message aimed at inspiring students to achieve their greatest dreams. He challenged the students to grab onto their dreams and never let anyone tell them they can't achieve them.
Those people, those who tell others they can't achieve something, he called "dream assassins" and warned the students those people come in many forms, from parents to best friends.
George recalled his own time as a dream assassin - how he once had a friend who declared he would try out for wrestling. George said he and his friends told this young man that he could not wrestle - he was too short and too small.
But that kid went on to claim several state wrestling championships and moved on to graduate from West Point Academy. George realized he should have supported his friend's dream instead of trying to tear it down.
"Practice lifting people up," George told the students. "Help people when they need you - look out for people who can't look out for themselves. One person can make a difference."
After the leadership conference ended, George stayed around to deliver the same message to the entire Mabton student body, both high school and middle school students.
George concluded by asking students to find him on Facebook. He may never come back to Mabton, he said, but loves to keep in touch with students who have heard his message and carry it through their life.