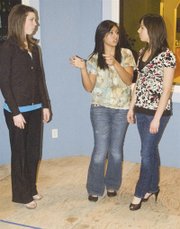 Sunnyside High School senior Marisol Velazquez had to come up with something for her senior project so she decided to focus on something close to her heart. Fashion.
Velazquez has been involved with scholarship pageants the last couple of years. She was Sunnyside's last Miss Cinco de Mayo and very recently competed at the Miss Washington Teen USA Pageant. She's also been modeling, as well.
But it was her experience helping a fellow student last year with her senior project that cemented her idea to hold a fashion show at Sunnyside High School for her senior project.
"I wanted to see what it was like to put on a show, not just be in it," she said. "I've learned a lot. You need to have a lot of dedication to put on a show. It takes a lot of time making sure everything is done right for the show."
While choosing a dress for the Miss Washington Teen USA Pageant at Fashion Corner in Sunnyside, the store's owner agreed to let Velazquez use dresses and tuxes from the store for her senior project. She immediately began forming her goals.
Velazquez put all the logistics together, booking the auditorium and putting the music together. She promoted the show through advertisements and flyers. She also decided to use the show to help raise money for Seattle Children's Hospital.
The hardest part has been finding models.
"Finding the right girls and making sure they go to practice has been the hardest," she said. "But everything has been flowing well. There haven't been any problems, yet."
Velazquez has 10 girls and eight guys to model the evening wear. The ladies will model three dresses, all different styles. The guys will model their tuxes with different colors and styles.
The fashion show will have three scenes. The first will feature the ladies in short dresses mixed with longer styles. The second scene will feature long evening gowns and the third scene will focus on fuller gowns.
The Sunnyside Dance Team will perform twice at the fashion show for entertainment.
"I've taught the models what I've learned from pageants," she said. "How to walk, how to pose, different facial expressions to go with the beat of the music.
"It's been fun," she continued. "It's been more work than I thought but putting the whole thing together has been fun. I thank everyone that's helped me put the show together, from my family and friends, the models, Fashion Corner and Sunnyside High School.
The fashion show will be held on Tuesday, Feb. 8, at 7 p.m. A minimum donation of $3 is being asked from those who attend. All proceeds will go to Seattle Children's Hospital. Raffle tickets will also be sold at the fashion show at four for a $1. Prizes will be raffled off during the show.