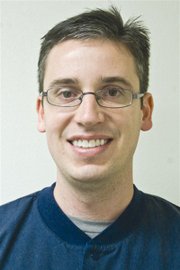 Community Dental in Sunnyside has a new pediatric dentist at its office, which they believe is a first for Sunnyside.
James Collette has his own practice in Kennewick, but spends a couple of days each week at Community Dental seeing patients.
Community Dental is owned by Brent Martin and Kent Copeland. The practice only sees children and young adults. Having a pediatric dentist on staff offers a lot of benefits.
"Community Dental strives for the highest quality dentistry and we are doing that by recruiting pediatric dentists with expertise and knowledge to provide that," said Copeland.
Collette spent an extra two years in school to get the designation. His expertise is valuable because he has a special knack with dealing with children of a young age, and it's these children that are coming in with an extremely high number of cavities.
Collette said dental cavities are the most common form of disease for children. Cavities are five more times likely than asthma. The reason it's so common, sippy cups and juices.
"It's very easy to quiet a kid down with a sippy cup of juice," Collette said. "Most parents don't realize that's the very worst thing they can do for the health of their child's teeth."
He said children should have a dental home by the age of 1.
"Our goal is prevention," Copeland said.
Collette said it's not so much the amount of juice a child has, but the frequency. He recommends parents transition to a regular cup as soon as the child can hold one.
He also recommends doing away with sugary drinks, instead recommending milk or water for beverages and string cheese for snacks.
"A child only needs four to six ounces of juice a day, that's not very much," Collette said.
Collette doesn't just offer his expertise to his patients, he also offers it to his co-workers. Copeland said a benefit to having Collette on staff is the ability to talk to him anytime about ideas and procedures.
Collette's extra two years of school focused on behavior management, getting children excited about dental work instead of afraid.
"It takes a lot of practice to talk a 3-year-old into letting you put a needle in their mouth," he said.
Community Dental also has a second pediatric dentist on staff, Dr. Carlos Durantes.