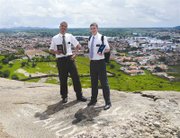 Not many people get the opportunity to live in and experience another culture in a different country, but to do so for two years - that is a real blessing.
Sunnyside High School graduate Sterling Scott has always known that one day he'd be called upon by his church and God to spread his faith through mission work, and it was a task he had always looked forward to.
Scott is a member of The Church of Jesus Christ of Latter-day Saints and he says that his faith believes in the importance of mission work.
"In my church," he said, "We believe that the people that can and are able to go on a mission should go on a mission."
The belief stems from the gospel of Matthew, where it states that Jesus Christ told his disciples to go out into the world and preach to all the nations. Knowing this, Scott knew he'd be called upon to perform his duty one day.
That day came in October 2008 and Scott learned he would be heading to Brazil.
Scott had submitted his paperwork to go on a mission just over a month before, but he already knew that he had no choice in where he would be sent. He hoped he might be selected to go to England or Denmark, as his ancestry stems from there, but he also knew that the selection was out of his hands.
"The church leaders, they pray about it and they send us where the Lord needs us."
Scott does recall that he did not particularly want to be sent to Brazil. He had heard the people were receptive to the message his church delivered but that many of them struggled with committing to it.
When Scott's placement came through, he knew his work was truly cut out for him.
Scott left the United States on Jan. 20, 2009. He was sent to work along the Pacific Coast in Brazil - the Northeastern part he refers to as "the hump."
While there, Scott found himself stationed in three towns where he would do his work - but first, he needed to learn the language.
Scott says he was given a rigorous Portuguese language course for nine weeks before being sent to his first city, Cajazeiras. It was hardly enough time to learn the language adequately, but in Cajazeiras, Scott was teamed with Elder Israel, a Brazilian missionary who was able to help the young American with his submersion into the language and culture of Brazil.
Scott went on to work in the city of Natal after Cajazeiras before landing in João Pessoa for his final seven months in Brazil. During all this time, Scott lived in five different homes, often with several roommates. In one house, Scott said he lived with six other people.
But despite the language barrier he had to overcome, and the many different homes and cities he lived in, Scott knew his mission in Brazil was to spread the word of God and it was that work that consumed his time in Brazil.
Being a missionary is not easy work, Scott said. People were often ready to receive their message and then later backed out.
"That is the toughest part," he said, "to see people reject what you know is true and you can't do anything about it."
But Brazil was not completely full of rejection and one particular family stands out as an important success for Scott.
He said the mother in this family of four recognized that she needed help for all the problems in her life - including a husband who was prone to drinking - and she prayed to God for that help. Scott says that two missionaries showed up the next day.
After working with the family, the missionaries, who included Scott and his new teammate, Elder Silveira, were able to get the woman's husband to stop drinking, brought the family together and got them to accept Christ.
But amid all their success, there was failure. Some families were unable to commit themselves to the faith because they were unable to quit drinking, or unwilling to attend church.
"Everyone there knows about God," Scott said, "but so few trust in God."
But the impact of finding that trust is evident in Scott's story. He trusted God would send him to the right place for his mission work and the experience was monumental in changing Scott for the better.
Scott returned from his trip in mid-January and he says the biggest change he sees in himself is that he is less shy and now has a firm idea about what he'd liked to do with his life.
Before he left for Brazil, Scott had been studying at Brigham Young University in Provo. He completed his general education courses before his mission but had a focus on mathematics, from which he hoped to either study education or statistics.
Now, after two years teaching people about his faith, Scott knows that education is not his calling. While he enjoyed the experience, he now fully understands what it means to try to teach someone who does not want to learn.
Scott will return to Brigham Young University to study statistics, but he says he'd love to return to Brazil one day - on a mission or just on his own.