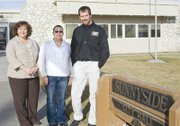 More than 30 sewer and water customers took advantage of the open doors at Sunnyside city hall last Friday.
City Manager Mark Gervasi considers that a good thing.
He said opening city hall to customers on Fridays has been planned for several months and he is pleased with the response from the community.
City hall, he said, has been closed on Fridays since 2004. The idea was one made by former City Manager Bob Stockwell.
Gervasi took the city manager's post last August and one of his first priorities was to provide better customer service to the citizens. He felt the best way to do that was to re-open city hall on Fridays.
In addition to the main office where customers pay city utilities, the city's planning and building department is now open Fridays. So, too, is the Sunnyside Police Department's front counter.
"We worked it out with staff...they have been helpful and gracious," said Gervasi, giving credit to his employees for making the changes possible.
"We all know why we are here," he said, stating the city staff is committed to the community.
Gervasi said the response from contractors needing the services of the building and planning department has also been positive.
"I spoke with Pam Sandifer earlier and she said the contractors are very pleased," he said.
Also available on Fridays are staff members with the Public Works Department.
Gervasi said the new hours, Monday through Friday from 7:30 a.m. to 6 p.m. at city hall and 8 a.m. to 6 p.m. at the police department, are a positive for the community.