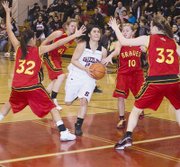 The Sunnyside Lady Grizzlies ended the 2010-11 CBBN 3A season with a loss to Pasco on Friday and a loss to Kamikan on Saturday.
Sunnyside got off to a good start against the Pasco Bulldogs on Friday, leading 21-7 after one quarter.
"We played our best three quarters of the season," Sunnyside Coach Rick Puente said. "We were very relaxed and comfortable. We weren't making any mistakes and everything was clicking."
Sunnyside led 30-20 at halftime and then stretched that to a 44-30 lead with just one quarter to play.
That's when the Bulldogs woke up and outscored the Lady Grizzlies 24-5 in the final stanza to come away with a 54-49 win.
"The bucket just opened up for them," Puente said of Pasco's offense. "The lid closed for us."
Sunnyside sent Pasco to the line too many times in the final quarter. The Bulldogs scored 12 of their 24 fourth quarter points from the charity stripe.
"That really hurt us," Puente said. "They (Pasco) were scoring when the clock wasn't running."
Vanessa Alvarez led Sunnyside with 15 points. Monique Willingham added nine points for Sunnyside. Ruby Herrera had eight points. Marissa Correa added five points. Melissa Amaro and Audi Sanchez added three points each. Sammie Reyes had two points and Adi Palenica scored four points.
On Saturday the Lady Grizzlies lost to Kamiakin 71-34.
"We came out slow and Kamiakin was very aggressive," Puente said. "They jumped out to an early lead and that kind of hurt our confidence."
The Braves led 24-7 after one quarter and 45-21 at halftime.
"We knew it was going to be a tough game," Puente said. "Kamiakin is the co-league champs with Eastmont."
Puente said his team failed to execute at key points in the game and the Braves took advantage of that.
Kamiakin outscored Sunnyside 26-13 in the second half.
Alvarez led Sunnyside with nine points.
Kamiakin was led by Khadidja Toure with 25 points and Kathy Larsen with 21.
Sunnyside finishes the season with a 1-19 record.
"I'm very proud of the girls, their work ethic and their dedication this year," Puente said. "They always worked hard and tried their best. The girls will have a great attitude for next year."